I had not had a regular workout routine in over 8 years until I joined Torched Fitness. I signed up for the 21 day program and 22 months later I still love it. My original goal when I joined was to get back into shape, but I never imagined it would be so much more.

As a working mom and also having been diagnosed with multiple sclerosis 14 years ago, taking more responsibility for my health needed to be one of my top priorities. I not only have lost weight, but my muscle tone, strength and overall health has dramatically improved.

I have maintained a weight loss of around 10 lbs, but offset by my muscle gain and the way my clothes now fit I am more than happy with my results.

My goal this year is to loose another 10 lbs. I know it's possible with my consistent workouts and altering my eating habits. Based on what I've learned from Jeremy, his newsletters and joining his 6-week challenge I now have the best nutritional and fitness advice for being the healthiest I've ever been. Hello, black dress, I've missed you!

Sheila Miranda

When I was asked to write my story, I was surprised. Who would want to read about my success?? While I am proud of where I am, I do not tell anyone unless I am asked. Although I am very passionate about what I have done, I am not one who likes to be in the spotlight.

I am the youngest of 5 children. I am the only one who has fought obesity my entire life. I remember that with every year of age, my size went with that year. All my friends were skinny, so of course when they polished off a Party Pizza, so did I. I remember being teased during my school years about being fat and remember looking back on pictures thinking, "dang, I looked good" and "wish I was that size now". I have lost and gained weight, roller coastered my whole life. Who hasn't? I have had every gym membership from Elaine Powers to Club Fitness. I've done every diet from Herbal Life to Adkins to Weight Watchers. When I plateau, I quit. When I quit, I gained back the weight I lost and then some. I have topped out at 235 pounds. This was, by far, my heaviest I have ever been in my whole life. I work two jobs, one being in a restaurant, which wasn't helping with my weight loss journey.

I decided to go back to weight watchers. Prior to joining, I lost 10 pounds. This is good! I like Weight Watchers because they teach you to eat in moderation, with that I knew I also needed to exercise. I joined Club Fitness and started attending Zumba, Turbo Kick, and Butts and Guts classes. The weight began falling off and boy was I feeling good. Now, I just had to keep it going. Pretty much all last year I have been fighting with the same 20 pounds. I also noticed that I am "softer" or "flabbier" then before. I decided to try personal training. 4 sessions for $90. The sessions were okay, didn't learn anything at all. Then STICKER SHOCK!! $1800 FOR 6 MONTHS, 3 X'S PER WEEK, 30 MINUTE SESSIONS!!! WHAT???? No thank you!!! Back to my classes.

I had been noticing a friend posting about this boot camp she was doing. I was proud of her going every day, 5am. Good for her, because, sadly, it could never be me. I never inquired, but looked for her post every morning. I wondered how does she survive? Boot Camp is sooo hard! Strenuous!! I'm so impressed! Then one day I clicked on the link. This place is in Affton?? How do I live here my whole life and not know of this?? Still let it slide. The aggravation of failing eating away at me the whole time. Then, finally, in February, I reached out to my friend, honestly scared would invite me there. Which she did. I emailed Torched Fitness with very vague questions and he said we will talk when you come in. I went in for a trial the next evening. I was already hooked! I signed up 21-day boot camp and started at 5 am the next morning! Within the first 6 weeks I lost 7 pounds and 7 ½ inches. Me! The person who most certainly could not work out at 5 am every morning is actually doing it!! I love my workouts! I feel so strong! I know I am healthier than ever! When I first started, I could not do a burpee or and up/down plank, now I can do BOTH! I noticed the other day I am starting to get muscle definition in my arms! My non-scale victories outweigh my weight loss victories by far. I am actually excited to go see my doctor for my yearly check up in a couple of weeks.

Torched Fitness has changed my attitude and health in so many ways. The price is right. I signed up for 18 months so I am committed! The workout can be catered to your specific needs. The guidance of the trainers is uplifting and not demeaning. One thing I told Jeremy when I went there is that I don't like seeing trainers working one on one with someone and they show no interest in their client. I get that they aren't going to give them 100% of their attention, but don't make me feel like I am not important to you, especially when I am paying for this service. Jeremy and his trainers are not this way at all! The small group sessions that Torched Fitness offers gives you that group workout feel with a trainer always accessible. We encourage each other all the way through. We push each other to try harder and do not allow each other to give up. He offers morning and afternoon/evening sessions. When I must miss the morning session I can go after work. This first time I went in the evening, I started my work out alone, and the other people asked me to join them. How nice is that? You don't know me and invited me to join you. Torched Fitness is a Gym Family! I will be changing the A in FAT to an I and I WILL BE FIT AND 50 THIS YEAR! This is a promise to myself!!

Carmi

When I started working out, my goal was to tone up my body. Well, I got a lot more than that! Thanks to Jeremy, I know have a better understanding of how to take care of my body. After just two months of working out, I lost 17 1/4 inches all over my body. Then, I found out that my husband and I were pregnant!! I was so excited but I didn't want to stop working out. Jeremy then brushed up on his pregnancy training skills and called me in for a meeting. Together with my doctor, Jeremy set up a exercise plan for me. I was so impressed by how professional and genuinely concerned he was about my safety and the safety of my baby. With the help of Jeremy, so far I have had a easy and healthy pregnancy. I hope after the baby I will be able to come back so he can help me take off my "baby weight".

Maren S. Weil

So before I signed up for Torched, I had stopped working out completely. I never really watched what I ate, but I had been a runner and trained for half marathons and would go to the gym to stay in shape up until I had to have surgery on my leg for a four compartment fasciotomy. I tried to get back into running after the surgery, but it just didn't feel the same so I just stopped doing any type of physical activity. It happened over time so I didn't realize at some point I became unhealthy, fat and out of shape. I had watched my sister get really great results through Torched and finally decided I needed to try something because I was the biggest I had ever been in my life, was feeling horrible, and knew I didn't look good. I was nervous because it was called "Bootcamp" and I didn't think I would be able to keep up and I was so used to running alone and working out at the gym alone and was nervous about being around typical "gym bodies" who were all in shape and looked down at those people out of shape.

I could not have been more wrong! I have found an amazingly supportive group of people at Torched who want to see you succeed as much as they want to succeed. On March 31st I had my very first weigh in at Torched and saw numbers that made me want to cry. Since then I worked out consistently and joined the six week challenge. As of my final weigh in on August 5th (just over 4 months) I have lost 27 pounds, lost 27 inches and went from a size 14 shorts to a size 8 and I'm not done yet. I feel so much better about myself, I feel stronger, more confident and I have gotten my desire back to get out and run and with 27 pounds less, running has become a whole lot easier!

From being at Torched, I have found that you can have a group of people who support your success and encourage you. I have also found that I love to support others success too! It is not about me competing against anyone, but being our own best versions. I've learned about better nutrition and that my diet is something I have control over. I learned to make different/better choices. I now eat a low carb, high protein diet and its not about eliminating carbs, but choosing when to eat them, how many and what kinds. Realizing I can't out run (literally) a bad diet was a big eye opener. But I don't have to restrict myself like most people do on a diet because I always have a cheat meal I can look forward to 🙂

I don't know if I would have had the success I've had if I was doing this for any reason other than myself! I'm young(ish), single and have a bucket list of things I want to accomplish that require more activity than sitting in my desk chair at work. I know I will enjoy life so much more and be able to do a lot more by being fit and feeling good. Plus, looking good doesn't hurt either! Also, being a smaller size makes shopping a little more tolerable! I still have a few goals I want to accomplish. I have 15 more pounds I'd like to lose and 5% more body fat. I would like to get back to running consistently and finish a sub 2 hour half marathon (something I haven't been close to since 2012).

Colleen D

I've only been coming to STL Torched Fitness for a little over a month, and already I've seen huge improvements in my fitness! My clothes are fitting much more loosely now, and I have so much energy. It's so neat to hear my family and friends tell me they can tell a big difference in my shape!I love how Jeremy has the class set up— we get into stations and rotate activities, doing all kinds of challenging exercises. And since we get into small groups, I've met a lot of cool new people here. It's a really fun and encouraging environment.If you're looking to tone up and drop inches, you will love this class!

Julie H.

Everything about this program rocks! I'll be honest I was a groupon boot camp hopper, jumping from one boot camp or fitness class to the next as soon as the groupon or livingsocial ran out, and I actually had another one to go after this one, but I liked this one so much that I stayed and don't plan on ever going to that other one.It's at this really cool gymnastics center in Webster, so there are all kinds of fun toys like bars, rings, mats, trampolines, and even a foam pit! And Jeremy mixes it up all the time and makes use of all of them in the workouts.Speaking of Jeremy, I don't know of a more fun and knowledgeable trainer anywhere! He loves getting people going toward better fitness, and knows how to taylor to both beginners or more advanced people, or if you have a particular issue he will work with you on it and help you figure out a plan of action. He's been in the fitness business for a while and seems to really know what he's doing.Plus the people are all great and that makes it all the more fun.

I'd like to put in my two cents about Jeremy's Torched Fitness Boot Camp. I'm 69 and was terrified of the exercises I would have to do. Could I survive? Well, the first few days weren't easy but gradually I got better and better. Jeremy was kind to me but pushed me to do more and more. That's really the only way you can get more physically fit. Would like to say that I notice when biking that I can get up hills a lot easier than before. In addition, my arms are a lot stronger. Balance is a big issue for seniors and I feel more confident in all situations. The classes are a lot of fun once you get acclimated and it's a real confidence booster to feel yourself getting stronger. I'm amazed what I can do at my age. People should not stop exercising when they reach their 60's. Fitness is forever. Jeremy tailors your exercises to what is doable and sane. In fact, I'm leaving town for a month or two and he has helped me put together a plan to keep up my fitness level so that I don't go back to the way I was. I plan on returning when I get back.Jeremy is very knowledgeable about the human body and the correct way to do exercises. Without supervision you could be doing them wrong and hurting your body. Having him there keeps you doing it right.

Scott S.

I had talked about losing weight and getting back into shape for years. Every year was "the year" I was going to drop 20 pounds. Then on Christmas I found a Living Social certificate in my stocking for a six week total body challenge. Ok, so I wasn't exactly excited about it. The thought of getting up for a 5:30 a.m. "boot camp" didn't fill me with joy. And it was probably going to be filled with serious athletes who would scoff at my attempts to keep up. And weren't boot camps where they whip young men 20 years my junior into shape? How could I expect to make it through one of those?So I decided I would try it for one day. My wife had paid money for it after all, I could at least see what it was like. If it was as difficult as I thought then I wouldn't go back. I said that every weekday for about two weeks. After 3 months of it I had my wife join me. I've been going for almost seven months at this point.The classes are great (don't interpret great as easy). Jeremy does a good job of keeping the "veterans" working hard while not making it too overwhelming for the newbies. The people are friendly, and no one is just ripping through the exercises like it's no big deal. The exercises vary daily and Jeremy does a good job of not using any one exercise too often. You definitely aren't going to come into a class thinking you are going to do the "same ol' stuff" you did last time.

Zach

We had talked about getting back in shape and losing some weight for years. I literally had not worked out since before I was pregnant with our oldest back in 2006. On a whim I bought a Living Social deal for a six week Total Body Challenge and put it in my husband's Christmas stocking. Oh the look on his face! It was worth the cost just for that right there.He had several legitimate worries, so we had an agreement – just try it and if he didn't like it, he could stop. Six weeks later he didn't want to stop.In April he asked me to do a six week challenge as a birthday gift. Boy did we ever raise the bar on romantic gifts this year. After a few days my body was freaking out. I was sore. Everywhere. I gained a new appreciation for the expression "bone tired," and I was so hungry. Here is a painful gift of Torched Fitness, you learn where you are weak and then Jeremy diligently starts making your weaknesses into new strength. I learned that I was eating too little real food, relying on sugar and caffeine to get me through. I thought I was active "enough" and in shape "enough" from walks to the park and chasing around two young boys. But I couldn't even do a push-up. I could hardly hold myself in a plank position. A Russian-Twist – forget about it.From Day 1 of the six week challenge Jeremy was encouraging and upbeat. So long as you tried and did the exercises as long as you could he was your biggest cheerleader. The atmosphere in the classes is positive and challenging. I think that rather than breeding competition, we are building camaraderie and friendship. And at the end of my six week challenge I was stronger, I had more energy, I felt great and it has been completely worth it. If I can do this, so can you.

I was collegiate athlete and now spend my days helping people recover from their injuries as a healthcare professional. You would make the assumption that fitness would come easy to me. However it proved to be just the opposite. My days are often long and stress filled; worrying about my patients, the daily grind of healthcare and staying in front of the paperwork forming mountains around me. Needless to say…… I often put myself last. I kept telling myself tomorrow… tomorrow will be the day that I start doing something for me; I felt like a broken record…. Tomorrow…. No tomorrow…..Finally I did it; with some encouragement from a close friend I decided to check out STL Torched Fitness. From the very start I found it awesome that there was someone out there that was willing to get up long before the sun comes up to help others work towards their fitness goals. With a schedule like mine the 5:30 boot camp worked perfectly for both my husband and I. From day one I knew this was something that was going to be perfect for me. Jeremy is incredibly knowledgeable when it comes to ALL areas of fitness. He took the time to address my personal needs and makes it feel like it is almost a personal training session each day. Every day is a new challenge; pushing myself further than I ever dreamed of going. I can now do exercises that I never dreamed I would be able to. Not to mention I am almost 15 pounds lighter and 2 sizes smaller. I would highly recommend Jeremy and STL Torched Fitness to anyone and everyone; no matter where your starting point is Jeremy will help you achieve your goals!!

Laura

As far back as I can remember, I have been overweight. I was always teased by the kids at school, ridiculed on the bus, etc. My parents did everything that they could to help me lose weight, but to no avail. I felt as though there was something "wrong" with me that would not "allow" me to lose weight. I simply could not stick to a "diet," no matter how hard I tried.
Around 1998, I joined weight watchers and the local gym. I started off weighing 306lbs. I was faithful, watched what I ate, and exercised almost daily. I took classes at the gym, both step aerobics and a weight lifting class. On those days where there were no classes, I used the elliptical or the treadmill. The weight began coming off. It took about two years, but I finally reached my goal weight of 150lbs….and immediately became pregnant. After giving birth, I once again lost weight and probably got back down to about 160lbs. Two and a half years later, I had my second son. Through both pregnancies, I exercised and managed to not exceed 200lbs.
Fast forward about five years and life got in the way. I got a divorce. The gym that I went to slowly started phasing out their classes and then finally closed. Although I joined a new gym, they did not offer the classes and therefore I only did cardio workouts. For some reason, I have a mental block on doing weight lifting on my own. I was now a single mom with two young boys. Anytime the boys said that they did not want to go to the kids' club at the gym, we stayed home. Slowly but surely the weight began creeping back on.
In September of 2014, I had the gastric sleeve surgery. The day of surgery, 9/14/2014, I weighed 318 lbs. This surgery is in no way a miracle cure. It is simply yet another tool for weight loss. I once again began losing weight, and after about a year, I rejoined a gym. Once again I would find myself doing the cardio workouts and not the weight training. I tried everything-going with friends, telling myself to "just do it", personal trainers (and a lot of money), and even downloading apps on my phone to tell me exactly what to do. Nothing helped me. I was stuck at about 205lbs. In my mind I knew that I needed to add the weights into my routine, but I just "couldn't" make myself do it.
I was scrolling through Facebook one day in November of 2016 when I came across the ad for Torched Fitness. I knew that a friend of mine had been going and I thought, "What they heck, why not check it out?" Twenty one days for $47? That's not a lot of money to lose if I hate it and never go back! I told my friend that I had signed up and she said that she would meet me there THE NEXT DAY!!! Oh my goodness! What had I gotten myself into???
We met at Torched Fitness at 5pm on a Wednesday. I was nervous. Would I be able to do the workout? Would everyone be looking at me? Did I even know proper form? Was the trainer going to be like a drill sergeant? What if I wanted to walk out right in the middle? What was this going to be like?
Let me tell you. This was NOT what I had anticipated. Jeremy was so helpful, taking time to show me what I needed to be doing, never judging me if I could not fully do the move. Can't do it? Let's modify it for now. Too much? Take a little break. I looked around the room. Nobody was watching me! Everyone was doing their OWN workout and guess what? They were having FUN!!!! I could not even believe it! I had finally found a place for me!
I began going at 5am the very next morning. I wanted to make sure that nothing (life) would get in my way. I have children. I have two jobs. I have other things to do. During the course of a day, I can come up with at least five excuses why I "can't" go workout after work. But 5am? That's MY time!!!
I started at Torched Fitness November 30, 2016. Since then, I have missed TWO days…but there have been days where I have gone twice! Jeremy recently added in Saturdays, so now I attend six days per week. I absolutely LOVE it!
Friends have watched my progress via Facebook, they've seen how much I love it and they have now followed me there…..EVEN getting up and working out at 5am.
In March, Jeremy offered the "Six Week Challenge." This challenge is not about who can lose the most weight, but who can transform their body the most. I considered joining, but wasn't sure this was for me. What REALLY got me to join the challenge was the accountability. Not only do you come and workout, but if you join the challenge, you get an actual meal plan AND someone to check your food journals to help you along the way. Perfect!!!
Six weeks later, guess what? I was down 8lbs and 17 ½ inches! WHOAH! Look at all those inches GONE!!!
Although the weight loss is slow at this point, I am continuing to get smaller and stronger! I continue to get compliments almost daily! This amazes me. When trying to "get in shape" or "improve our health" or whatever you want to call it, the first thing people think about is the scale. That's just the easiest way to measure progress, right? I mean it's right there! Just step on up! Although I still weigh myself (too often), I am learning to focus LESS on those numbers and MORE on how I feel. I can not only FEEL muscles, I can SEE them. People are noticing the change! There was a point in my life when I would go up AND down steps one step a time, like a child just learning to walk. Now? Now I run up and down them. In fact, I spend EXTRA time at Torched in the morning running up and down the steps! I like to make sure I get 20 flights per day.
Is this easy? Absolutely not. By the third day of boot camp, I was pretty sure I had pulled something and would need medical attention. Turns out I was just feeling muscles that hadn't been used in a LONG time. Does boot camp get old? Same boring routine? Nope. Jeremy mixes it up and it's always something new. I have made some great friends at Torched and honestly can't imagine my life without it.

Karen Greer
READY TO HAVE FUN?
GET 1 FREE WORKOUT!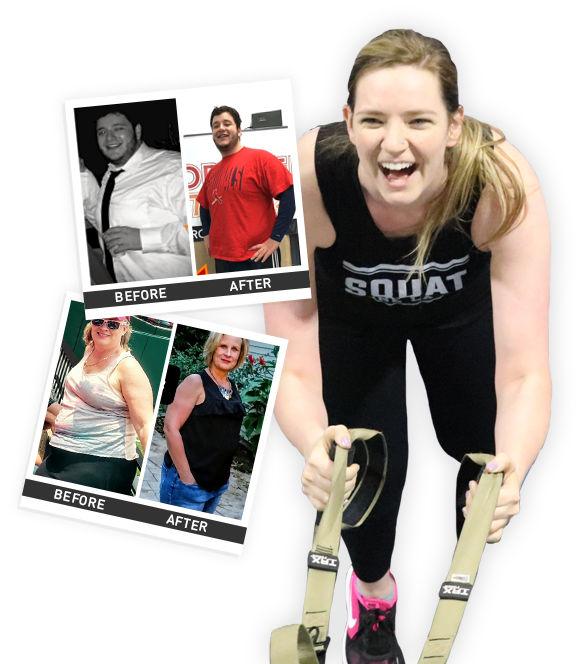 HERE'S WHAT YOU'LL GET:
Awesome workout
Goal assessment
Nutrition consultation
"Afterburn" effect
Fun atmosphere!